I made a diagram of how to record sound on YouTube.

I'm recording sound with line input
Basically, the sound is recorded by line input.
It's difficult to make a sound at home, but I also record the sound on the line because I don't want the live sound of the guitar to be included.
At the beginning, I used to input lines directly from the mixer to the camera.
However, when I recorded the fuzz sound, the sound sometimes changed considerably.
So I try to record the sound on my computer and then match it with the video.
Recording software is CUBASE LE
I use it to record sound.
I only applied reverb and did not adjust the sound.
There are many introductions to the sound of effectors, so there is no point in changing the sound.
So basically, I only apply reverb.
By the way, I take the voice and the guitar at the same time.
In the future, I may make some adjustments when shooting performance videos.
Audio interface and mixer YAMAHA AG06
The YAMAHA AG06 comes with an amp simulator and reverb, but basically I don't use it.
I used it when I was recording directly to the camera without using an amp, but I stopped using it because the amp simulator was too noisy.
This mixer has a mode that allows you to send the sounds of CH1 and CH2 to your computer separately.
I use it to send sound to my computer.
So I record the guitar and voice together, but they are on separate tracks.
Amplifier VOX MV50-AC
If you line out this tiny amp head, you won't be able to use the reverb and EQ switches on the back.
However, since it has a speaker simulator, you can record with a fairly good sound.
The sound is a little muffled, but it seems that VOX's AC30 is also quite muffled, so I like this one.
Video editing is a free software called AviUtl
I use a free software called AviUtl to edit the video.
However, after this recording method, a problem has appeared and I am using it quite strangely.
First, input the video and sound to match.
Therefore, once output (encode) with MP4.
Then, input this output video again and edit it.
The reason for doing this is that if you edit as it was when you first typed it, the operation will be considerably slower.
In that case, it will take a lot of time to just cut and paste the video.
So I found that it would be solved if I output it once and input it again, so I will edit it this way from then on.
The guitar is Fender Custom shop 1961 NOS Lefty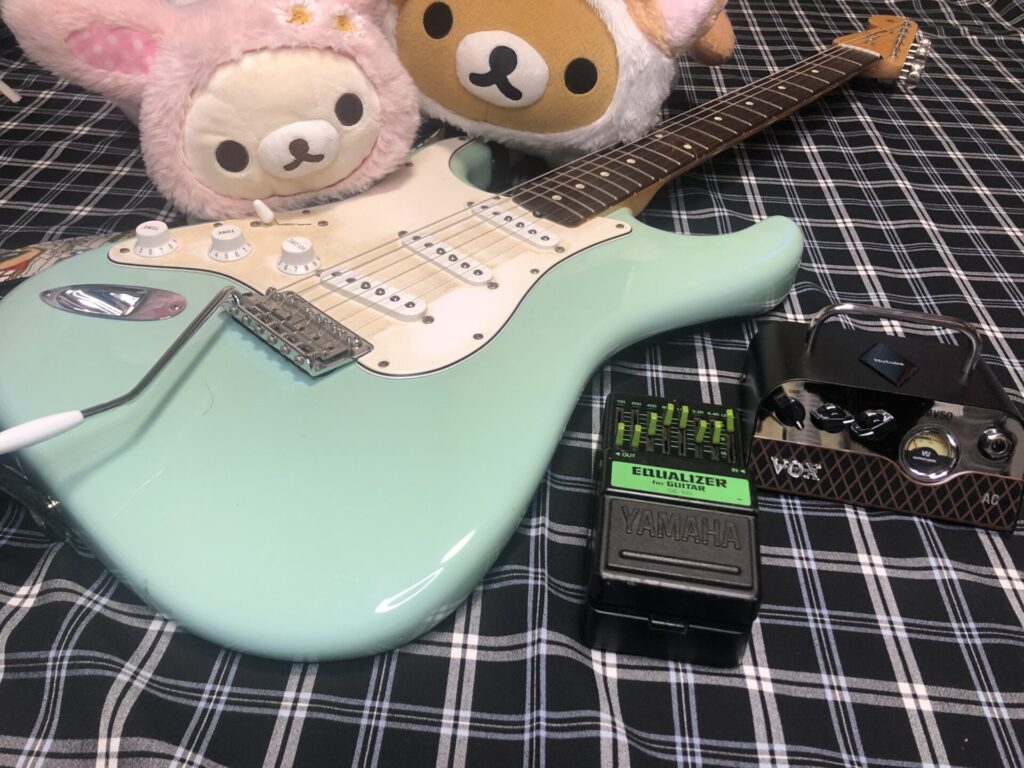 The guitar is a right-handed version of the 1961 reissue model Lefty from Fender Custom Shop.